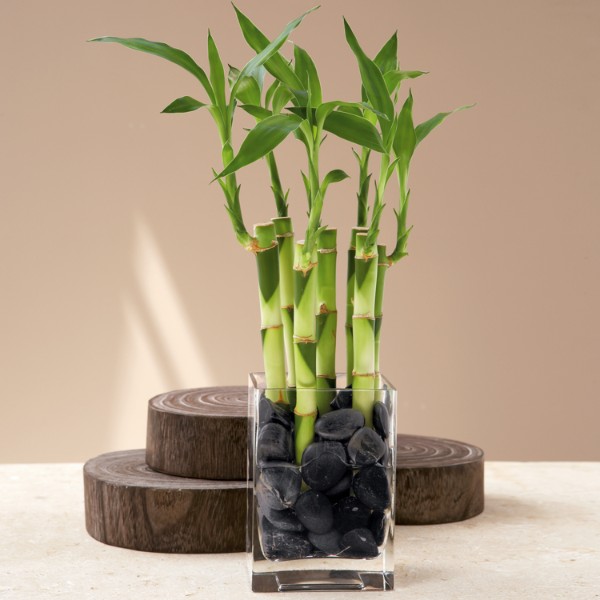 Looking for the best gift idea for Father's Day? One fast growing gift idea for dad is sending plants, especially office plants. And here at ProFlowers, we think that indoor bamboo plants, specifically the unique lucky bamboo, make an excellent Father's Day gift. Being a durable plant that is easy to care for, lucky bamboo has a modern and masculine look and as its roots in Feng Shui by giving off good luck and fortune to its owner. We also love lucky bamboo because it is a gift that can last for years to come if properly cared for.
Easy Care
Worried that dad may not be able to care for bamboo? Lucky bamboo requires little maintenance, and can thrive off of minimal water and little to no sunlight. It is known for its ability to adapt to almost any lighting situation, so dad does not have to think twice about whether his plant will stay healthy under artificial lighting. It will also thrive on as little as half an inch of water in its container, so dad only needs to water this plant every now and then. And thanks to the clay and rocks that usually replace soil in bamboo plant containers, he only needs to water once the rocks or clay piece look dry. He can just sit back and watch this beautiful lucky bamboo plant grow!
Modern and Masculine
Since indoor bamboo plants are not planted in regular soil, this attribute makes it more modern, visually interesting, and masculine. You will also find that most lucky bamboo comes in either glass containers or modern styled ceramic containers, giving his office a very elegant impression. Dad will appreciate the simplicity and style of Father's Day gifts like this.
Good Luck
One of the greatest reasons we think lucky bamboo is one of the best gifts for dad is because of its meaning. Being a staple in Feng Shui for years, lucky bamboo is meant to bring the person who owns it good luck and good fortune. For example, 3 stalks of lucky bamboo bring happiness, wealth and longevity. 6 stalks are meant to bring prosperity and 7 Stalks of Lucky Bamboorepresent good health. Also, if the bamboo curls as it grows, it is meant to hold even more luck for the person growing it.
Office Companion
This little green gift would make a great companion for dad's desk or home office, especially if dad spends a lot of time in the office. This easy-to-care-for office plant can help brighten and spruce up dad's workspace, which will in turn increase his productivity and make him happier to be there. And if dad is happier at work, he will definitely be happier at home!
Longevity
Lucky bamboo can be cared for and propagated for years. So when you are purchasing a plant for dad, keep in mind that this particular plant will last far beyond Father's Day. All dad has to do is follow the simple care instructions for his plant and he can be reminded of your love for him in the years ahead.